Montenegro Winner in the Men´s Competition in Basketball!
06.06.2015 19:14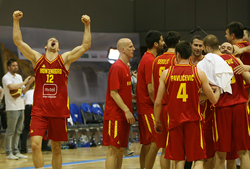 Montenegro was a number to big for the Icelandic team in the final game today. They started the game very strong and took 0-12 lead in the first minutes. Montenegro led by twenty points 41-61 in half time.
Iceland never threatened the win and Montenegro ended up as the GSSE 2015 winners after winning 84-102.
For Montenegro Suad had 15 points, 4 rebounds and 3 assists along with Milutin that also had 15 points, took 1 rebound and 4 assists.
For the Icelandic team Hlynur Bæringsson made 19 points took 5 rebounds and made 3 assists and was by far their best player.
Myndir með frétt
Til baka