Fab five at the final day for Iceland
06.06.2015 19:13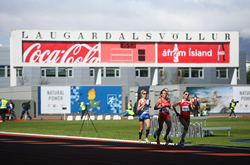 Iceland shot to the top of the awards table by picking up five gold medals at the Athletics competition in Laugardalsvöllur today. Cyprus and Malta enjoyed a fine day as well.

Relays were the final event today where Cyprus started by winning men's 4x100 in 41,94, 7/100 ahead of Iceland.

Iceland won the women's 4x100 (46,62), the men's 4x400 (3:17,06) and the women's 4x400 (3:44,31) while Cyprus came second in all three.

Charlotte Wingfield (MLT) picked up her second gold medal as she won the 200 m in 24,19, 3/100 ahead of Hafdís Sigurðardóttir, just as in the 100 m run on day one. Kevin Moore (MLT) won the men's 200 m in 21,54.

Hafdís picked up gold medal in the women's triple jump (12,49) and Panagiotis Volou (CYP) won the men's jump (15,53).

Guðmundur Sverrisson (ISL) won the men's javelin throw (74,38), Vasilios Konstantinou (CYP) the high jump (2,18) and Marcos Sanza Arrenz (AND) the 10 km run (30:59,42).

Sladana Perunovic (MNE) was the fastest runner in women's 5 km (16:53,78) and Stéphanie Krumlovsky (LUX) won the shot put (13,68).

The complete results can be found by clicking here.

Til baka